Support ClassicPress And See Your Donations in Action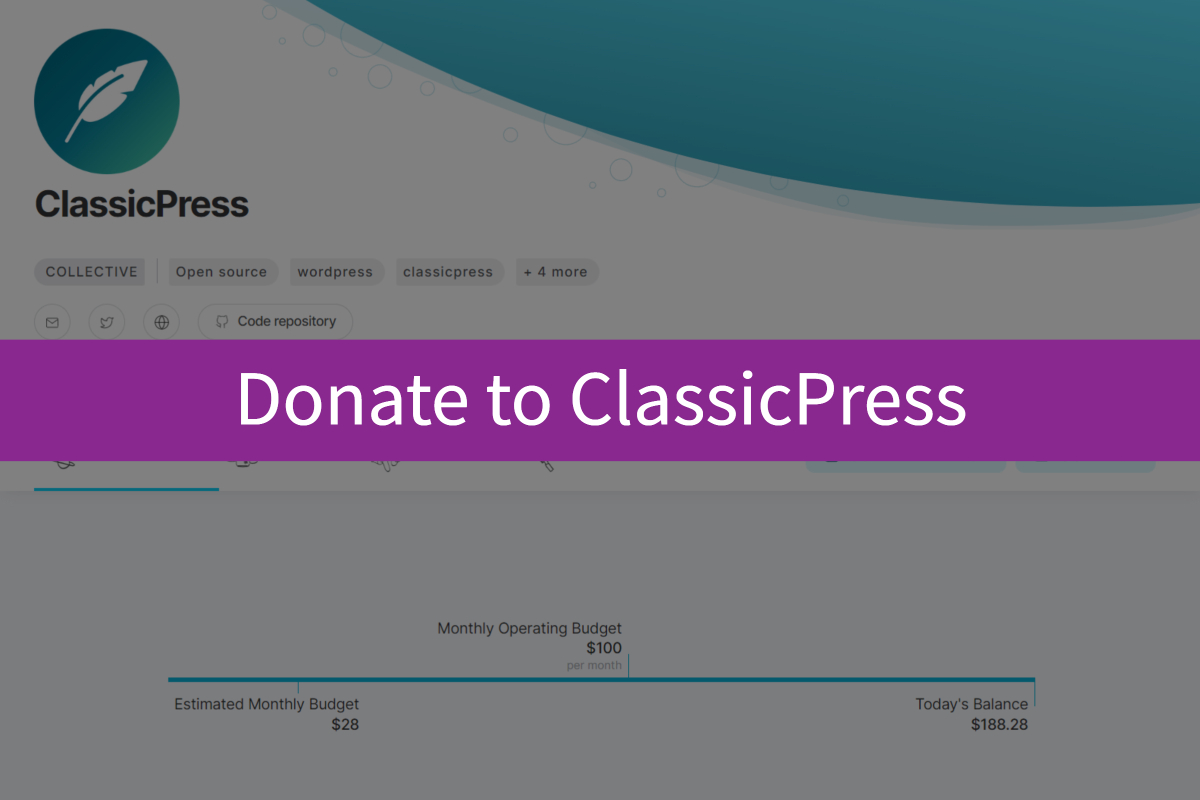 In the past, ClassicPress received some donations without any solicitation. A handful of individuals shouldn't carry the financial burden of the entire project. ClassicPress is a community-driven and supported project, the community should come together and fund the project if they want the project to survive and thrive.
This is why we've begun streamlining the donation process and making financials more transparent to build trust with our community. If you donate, you should be able to see how your money is spent.
Open Collective
We have moved our donation process to Open Collective as an independent collective. Since CPI is a registered 501(c)3 non-profit with its own bank account, being an independent collective eliminates required Open Collective fees. 
Open Collective allows us to use our own Stripe account to collect donations. As of last week, Stripe granted ClassicPress Initiative a non-profit discount on its fees (big thanks to Stripe):
2.2% + 30¢ for non-AmEx transactions
3.5% for AmEx transactions
(Wallets included)
This allows us to keep more money from each donation. 
All contributors will be recognized for their support in ClassicPress's README.md (already done) and on the main website (work in progress at this time).
Budget
You can see our budget goal ($100/mo) on our Open Collective profile, which is $1200/year. This budget is based on the current expenses, which we are working on reducing:
$70/mo – Digital Ocean servers
$20-25/mo – administrative expenses (mailbox, BitWarden, etc.)
We are working on making our operating expenses more transparent by listing them every month on Open Collective. This way our community (you!) can see CPI's full financial status every month, and see what donations are spent on.
Your Time to Shine
Since we launched Open Collective last week, we already have 6 contributors (THANK YOU!):

It's your time to shine now. We're asking all of our community to help us fund ClassicPress.
Any amount donated helps:
If you're not a developer and can't contribute to the core development, this is your opportunity to help support ClassicPress in a small but very important way. In the US, all donations are tax-deductible. 
Note, since we do not pay Open Collective any fees you will see an optional tip you can give to Open Collective to help fund their infrastructure. You can choose to tip them or select "No thank you".
Whatever you choose to donate, THANK YOU. If you can't afford to donate, consider helping. You don't need to know how to code to help. We need writers, translators, testers, designers, etc. Reach out to us in the forum or on Slack.
Sponsors
If ClassicPress is helping you and/or your business make money, consider becoming a sponsor. Sponsorships start at $250/year (tax-deductible in the US).
We will include your logo in the project's README.md and on the website. We are working on more sponsorship perks.
Let's get ClassicPress funded! Donate ›