New at ClassicPress: Security Release, GitHub Issue Templates, And More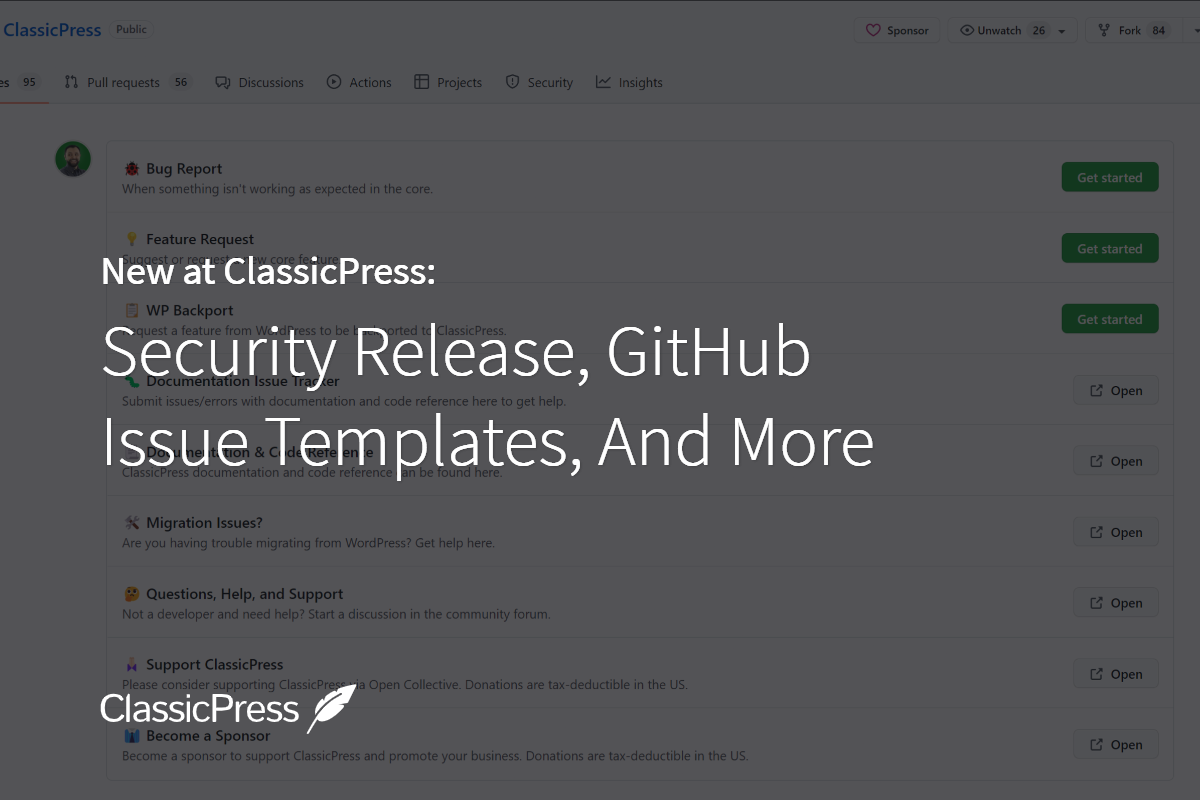 It may not seem that way, but the team actively works on ClassicPress and its related projects. You can track core development progress by visiting our GitHub repository or reading transcripts from our weekly core meetings.
If you don't have time to comb through GitHub issues/PRs or read meeting transcripts, here's a quick overview of what we've done over the last few months (and what's coming).
Security Release (version 1.4.4)
Security is important at ClassicPress, so we're trying to keep up with WordPress security releases as quickly as possible. Once WordPress released 4.9.22, our team worked diligently to bring security updates to ClassicPress in version 1.4.4. It was released on October 27th during one of our weekly core meetings. If you haven't updated, please do so as quickly as possible.
You can check the release notes for version 1.4.4 to see what changes were included.
GitHub Issue Templates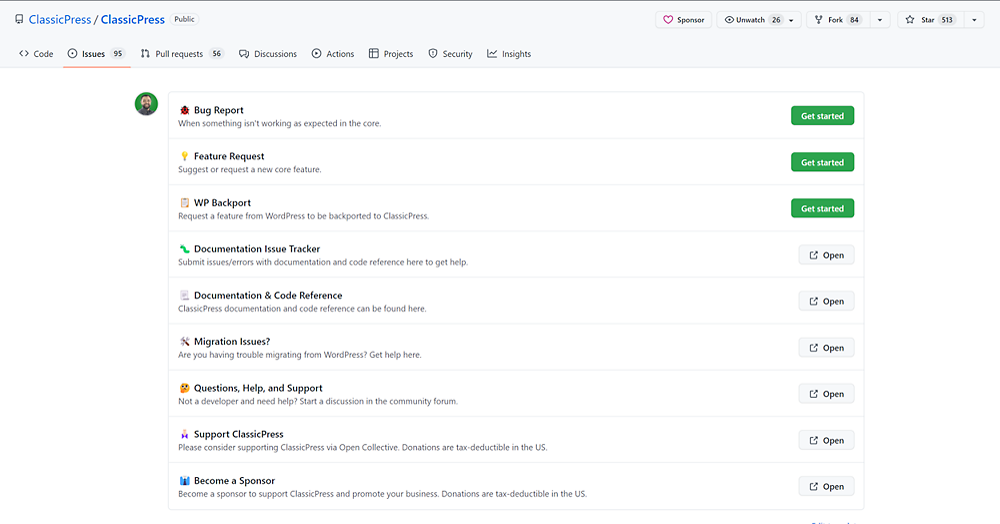 As a small team, we're always trying to optimize our systems and processes to help us achieve more with less. That's why we're excited about issue templates in GitHub. 
Now, all issues created in GitHub are routed through three types of templates: bugs, feature requests, and WordPress backports.
When you create an issue, you will be presented with a form that asks for specific information to help us triage and work on your issue.
In addition to issue templates, there are additional links to various places to help our users find the information they need. Be it a link to documentation, community support, or a donation link.
Plugin/Theme Directory
We continue working on the new plugin/theme directory powered by ClassicPress. The first iteration of the directory has been built and tested. 
We're upgrading and migrating our infrastructure to cut costs and improve performance. Once this is complete, we will take the new directory live and begin accepting plugin and theme submissions.
The next step will be integrating the directory with the ClassicPress core.
Version 1.5.0
We are actively working on version 1.5.0. It includes over 50 PRs so far. We're always looking for help with core development and testing. 
Documentation
Lastly, we've created a Documentation Issue Tracker to track missing documentation. If you can write and want to contribute, we need help re-writing WordPress documentation articles for ClassicPress. You can see an example of an original WordPress article and the re-written article for ClassicPress. We also need help reviewing rewrites to ensure quality. Whatever help you can provide, we're happy to get it!
That's it for this update. Please consider donating to help us pay infrastructure costs if you haven't donated. Donations are tax-deductible in the US. Donate on Open Collective or using the GitHub Sponsors program.