Michelle Coe joins the ClassicPress founding committee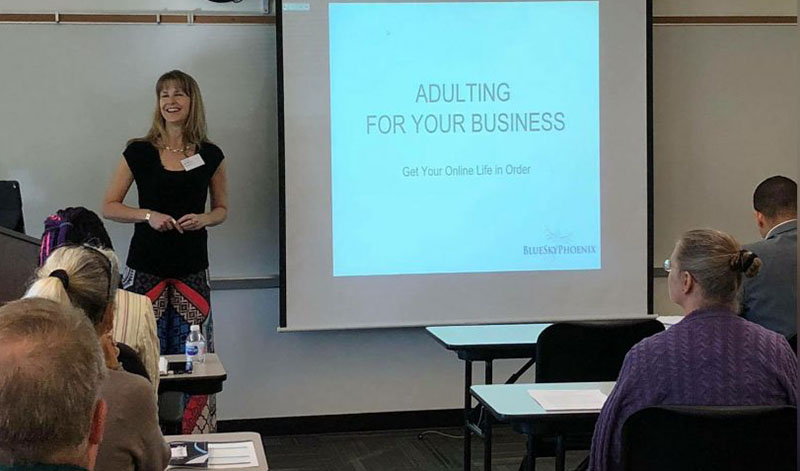 It is with great pleasure that we announce the addition of Michelle Coe (Creative Director and Owner of BlueSkyPhoenix LLC) to the founding committee of ClassicPress. Michelle first volunteered her time a few weeks ago, but in short order has made her mark on the community in the areas of design and marketing – as well as general contributions to the community at large.
Michelle has over 20 years of experience providing elegant design solutions for small to mid-size businesses. Since founding BlueSkyPhoenix in 2011, she has created and deployed more than 100 websites, designed 70+ logos, and created countless other designs for her clients' digital and print needs. Passionate about small business, Michelle partners with her clients to build brand strategies and web designs that convey a professional, positive business image.
"As a small business owner who supports other small businesses through website design, I'm excited about the opportunity that ClassicPress presents, especially in light of the recent controversy surrounding WordPress 5.0 and the integration of Gutenberg into WP Core. Working together with the rest of the ClassicPress team, I look forward to contributing to the evolution of a smarter, more elegant solution for businesses and non-profit organizations."
Michelle speaks at regional events on topics relating to entrepreneurialism and business development, most recently at the Inaugural Fauquier Chamber of Commerce Micro Enterprise Symposium. She currently serves on the Board of Directors of the Fauquier Chamber of Commerce, and is co-chair of the Fauquier Chamber Micro Enterprise Council. She and her council organized the very successful Inaugural Micro Enterprise Symposium, held in October of 2018.
She previously served as 2017 Vice President of the Warrenton Regional Chamber (GWCC); in 2016 she served as Secretary and Marketing Director of the GWCC. She is also a member of the Haymarket-Gainesville Business Association. BlueSkyPhoenix was selected as recipient of the 2016 GWCC "Entrepreneur of the Year" award.
We're excited about having someone with such a fantastic track record on the committee, and we look forward to taking ClassicPress forward with her help.