ClassicPress Directory Update
Announcement
We are excited to announce the new developer login for the ClassicPress Directory, a major milestone for us as a community!
With this major update, plugin developers will be able to login via their Forums account, create a new Developer Profile, and manage and publish their plugins to the community. After the initial developer login is stable we will be listening for your feedback on which features to build out next.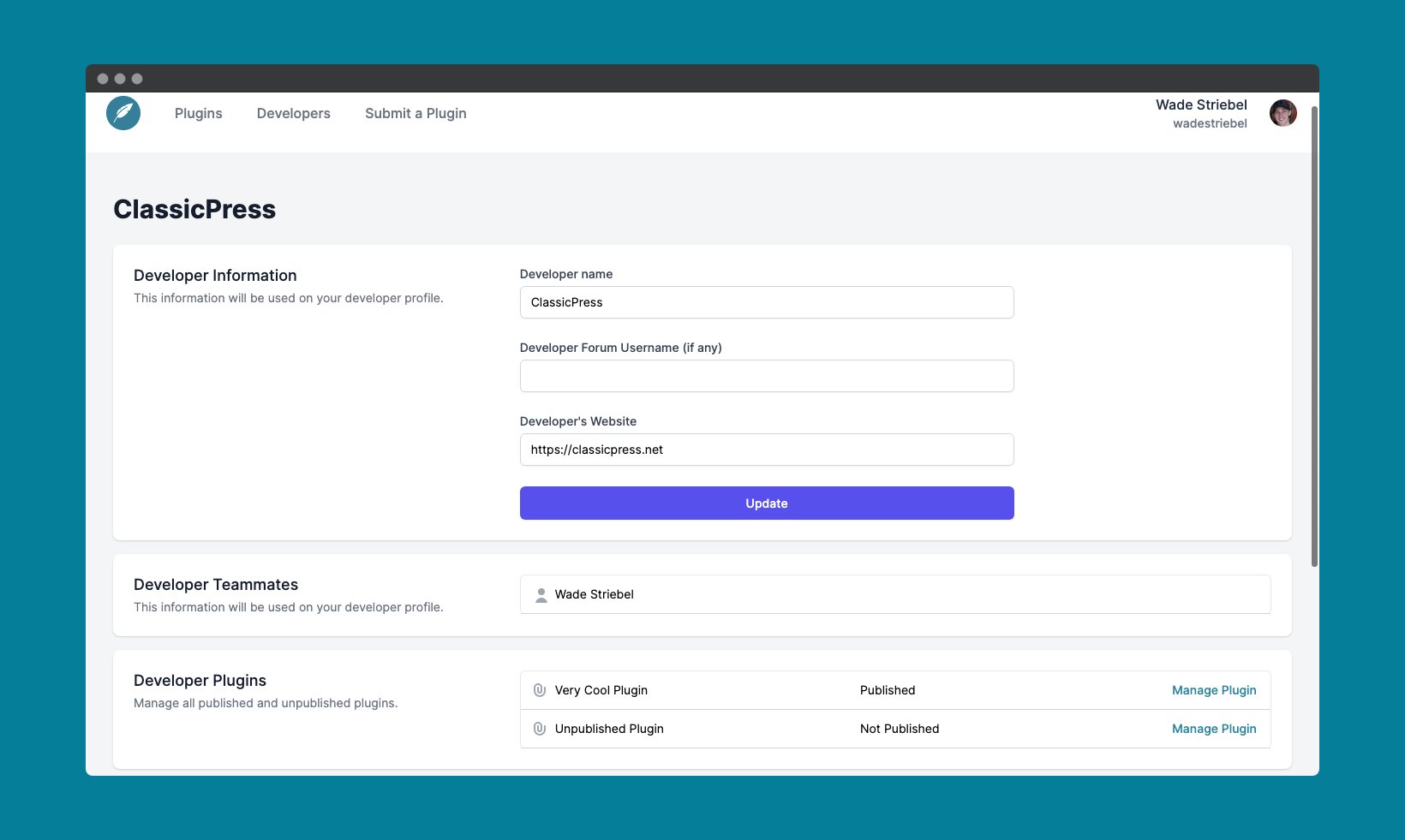 We have taken an approach of allowing all users to login into the Directory without requiring them to make a developer profile. This will allow us, in the future, to add features for end users as well. For example, some potential ideas are to allow for comments, reviews, and support via the directory, all of which will be connected with the ClassicPress Forums. 
In the coming months, we will also be looking at open sourcing the directory to allow for more transparent updates and progress, as well as feature PRs from the community. 
We are really excited about this next update, and hope plugin developers are too. For theme developers, don't worry, we haven't forgotten you! We will be releasing theme support in the coming months too!
Quick Start
Visit the Directory Login
Click the "Sign in with Discourse", this will redirect you to our forums and prompt you to sign in if you aren't already.
Once back to the Directory you should see your name, username, and avatar in the top right corner. 
Quick Tip: you can access all your Developer Profiles by clicking on your avatar
Create a Developer Profile
Once logged in, click on your avatar in the top right
Click "Create Developer Profile"
Fill in the required information
Once created you will be redirected to your Developer Profile.
Quick Tip: your user account can be connected to more than one developer profile
Add a new plugin
Sign in and access your Developer Profile
Scroll down and click the "New Plugin" button
Once filling in the required information, click "Create"
Note: This will flag your plugin as ready for review 
Feedback
Please consider this a "Beta" release, there will likely be bugs, unclear instructions, and things are subject to change. If you have any feedback on our new Developer Portal please visit let us know in the Directory Support Category on the ClassicPress Forums.